Reprex is a finalist for The Hague Innovators Award 2022, and the prize of the audience, in the startup category with our respectable competitors, Sibö, WECO, STHRIVE and ECOBLOQ.
Reprex is a research automation company with an international team and clientele. We validated our product/market fit in the Yes!Delft AI+Blockchain Lab in 2020 and started to build research automation tools for complex data problems with a fast-growing user base and a very high-level international recognition in the EU and the UK. Our dual product offers us to participate in large data platform PPP projects and find growth opportunities in building data-driven commercial applications simultaneously. We want to scale up our operations in the Hague, where we are registered.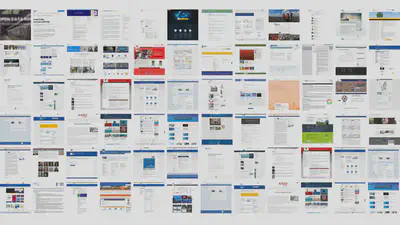 About 60 large data observatories worldwide serve numerous consultancies, universities, NGOs, and other knowledge-based organizations with consistent information collection and processing. We want to power at least 10% of these global knowledge infrastructures in 5 years because we think our technology is superior to almost all of them. By providing essential services to them, we get access to the data ecosystems of prime governmental, academic, and large corporate users. Our central position in one mature and four emerging observatories allows us to provide shared services to for-profit and non-profit organizations that do not have a data science/engineering team.
We also have a compelling proposition to an organization that had built large database systems that became quickly obsolete: we offer them an alternative to rigid relational databases. We provide these organizations with competitive data acquisition, processing, knowledge management, and documentation services, which enables even very small commercial or civil society partners to deploy (ethical) AI.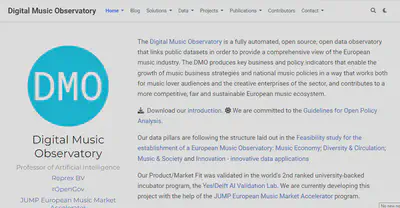 Our observatories are PPP data ecosystems that create many jobs, not only in our startup but in their city ecosystems, too. As a permanent EU organization similar to the European Audiovisual Observatory, it can create up to 35 crucial knowledge jobs in Strasbourg. We want to join forces with the Hague, the Europeana (the EU cultural heritage body in the Hague), the PAARD, and other actors to make the permanent place of the European Music Observatory in the Hague. This work connects mainly to SGD Goal 5 (detecting algorithmic biases against womxn) and SDG Goal 8 (decent work for creative freelancers and protecting their income from global data monopolies).
We would also like to attract at least one more European or global observatory to the city. Our beachhead/flagship ecosystem is in music. We started expanding towards the related film, gaming, fashion, architecture, and other copyright-based industries. We also discovered function-specific uses that allowed us to go into commercially far more lucrative directions: we started building a computational antitrust and an environmental and social reporting supporting green observatory.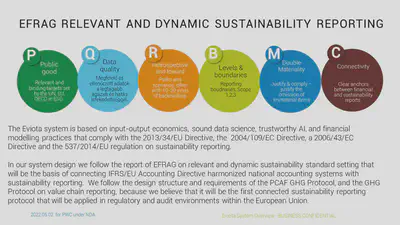 The banking, financial and antitrust regulators are forcing first the 49,000 large EU companies by 2024, then the SMEs and e-commerce platforms to provide auditable accounts of their environmental and social impacts in their entire value chains.